About Solutions Training & Advisory Ltd
Who are we:
Solutions Training & Advisory Ltd was formed in 1994 by Paul Meek (Chartered F.C.I.P.D). Paul has an extensive career within the emergency services, having posts in the police force and a twenty-two-year career in the ambulance service as Operations Director. Throughout Paul's career, he was exposed daily to the consequences of poorly managed risks, and this is what spurred Paul to establish Solutions Training, he wanted to bridge the visible but avoidable gaps in risk management and in particular health & safety education and the development of equipment used to aid safer transportation of people.
All our products are manufactured in the U.K. to exacting standards.
We are extremely proud to boast that some of the equipment offered on this website has been developed as a result of real-life experiences that our healthcare professionals have faced within their careers when moving & handling people. Our team wanted to develop products to ease the physical element of the moving & handling process and to ensure that people are moved in a compliant, safe, and dignified manner with the support of competitive, quality moving & handling aids.
Our aim is to reduce risk by developing moving & handling products and by developing people that use the moving & handling products.
On this site you can purchase the most commonly sought-after kit including;
Slide sheets (reusable and disposable)
Handling belts (various sizes)
Handling slings
Rota cushions (two sizes)
Transfer boards
Unique carry sheets (standard and bariatric sizes) (with or without drainage)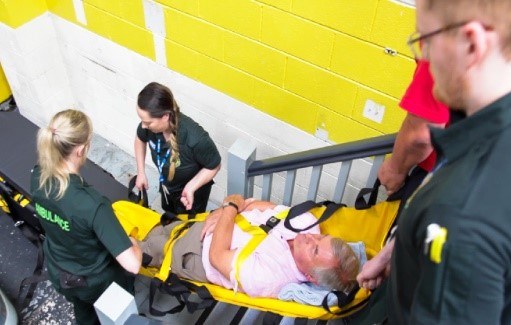 Solutions – Health & Safety Training Programmes:
As well as offering moving & handling equipment we also offer educationally accredited training programmes with qualifications ranging from Level 1 – 3 awards, including Moving & Handling, Conflict Resolution, Fire Warden, and First Aid, all of which are on the regulated qualifications framework.
We tailor our training delivery to be bespoke to each customers needs by offering Tutor Led Training, Train the Trainer and Refresher/Update Programmes, Video Conferencing Skills Training and Blending Learning Solutions (mix of online and face to face training). View our catalogue of training solutions to find a course that is fitting to your needs.
Our longevity has provided us with multiple case studies within the emergency services, health & social care, special education, and transport sectors, all of which demonstrate how our solutions and training interventions have reduced injury and absenteeism linked to work based conflict/violence and muscular skeletal injuries.
Please visit our training website to view the full programme of  courses available: Training Website