Moving and Handling Equipment
All our products are manufactured in the U.K.
Some of our specialist products are unique to us and have been designed in partnership with healthcare professionals to enhance moving and handling techniques, and to ensure safer transportation of people.
If you do not see the moving and handling equipment you require on our site, or if you want to purchase multiple items, please contact us to see how we can help. We have supported organisations with the design and manufacture of products outside of our standard catalogue of equipment.
Why are our carry sheets unique…………
The foot pocket allows the person to be moved either, supine or semi recumbent (design protected). People needing be kept upright due to breathing problems or being taken down staircases will not be compromised
They are ergonomically designed to ensure that the posture of its handlers is not compromised, reducing risk of manual handling injuries
Ambulance crews have the option to place stretchers inside the carry sheet, meaning they have better control of the moving & handling process
The bariatric and standard sized unique carry sheets are now also used by ambulance services, the police and fire services, special schools, the health & social care sector and many other organisations, including medical companies and funeral directors
We can manufacture the products tailored to your individual needs (colour and organisation branding options)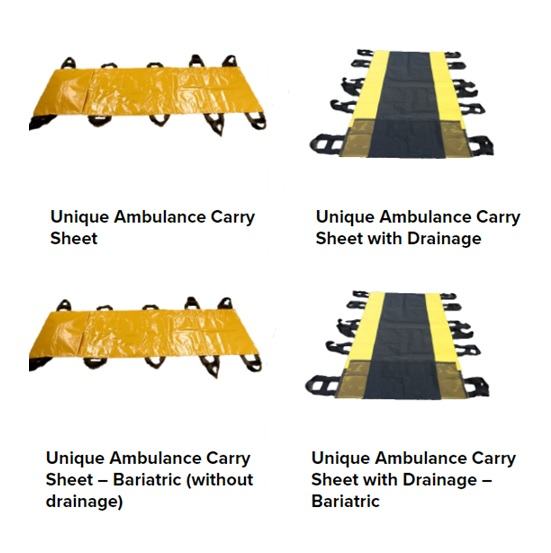 Moving and Handling Training Solutions:
As well as offering moving & handing equipment, we also provide market leading moving and handling training programmes, including educationally accredited Level 1 – 3 awards which are in the regulated qualifications framework.
We tailor our training delivery to be bespoke to each customer's needs by offering Tutor Led Training, Train the Trainer and Refresher/Update Programmes, Video Conferencing Skills Training and Blending Learning Solutions (mix of online and face to face training).
To view all of the Health & Safety Training courses we offer, please visit our
training website
.
Manual Handling Equipment – Guarantees
All our manual handling equipment comes with a years guarantee and our unique carry sheets come with an amazing five-year guarantee, giving you confidence in the quality of our products (subject to fair wear and tear).
If you wish to purchase multiple items, have any questions on our products or require any bespoke moving & handling products we do not have listed, please contact us to see how we can help you 0775 164 5724 or email enquiries@solutionstraining.co.uk